Campro Intelligent Manufacturing System Achieves The Best Utilization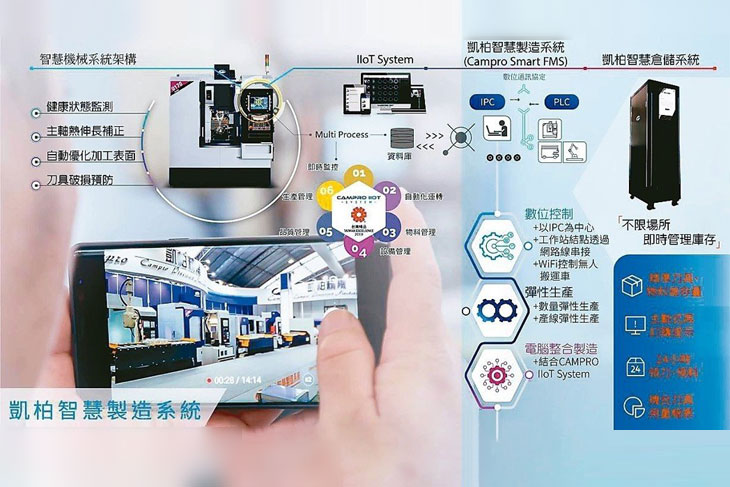 2019-03-07
Diagram of Campro Smart Manufacturing System
2019/03/07 Economy Daily News (Taiwan)
Industry 4.0 is a new wave that drives upgrading of manufacturing industry; the global smart manufacturing market size is estimated to reach 320 billion U.S. dollars in 2020 according to Topology Research Institute from TrendForce Corp; however, Campro developed smart manufacturing with 3T (OT, IT, CT) earlier than others. Therefore, Campro focused on smart manufacturing, tried the best to speed up R&D, and exhibited at TIMTOS.
Campro takes various types of machining centers such as Vertical, Horizontal, Gantry, 5-axis, CNC Lathes, Vertical Lathes and Turning-Milling Centers as the main products. In the past year, Campro invested on NT-208SY (Box Way) which adopts the orthogonal design of Y-axis to avoid error from virtual axis and ensures excellent processing performance through servo compensation. To meet the various processing needs in the market, Campro further improved the 5-axis machining center to develop NU-500 to meet complex market demands. It allows clamping short tools to process steep sidewalls, providing smooth cutting, reducing the risk of tool breakage and extending tool life.
The concept of smart manufacturing construction is based on practitioners of human-machine symbiosis. Through intelligent tools and lean management mechanisms, it effectively reduces time waste and improves production efficiency, reflects the optimization of utilization rate, and fully demonstrates the determination to move from Industry 3.0 to 4.0 , And activate the soul mission of energy injection industry. Since the development of the elements of Industry 4.0, Campro Precision Machinery has obtained the service energy certification this year, and the Campro IIoT System has also won the 2019 Taiwan Excellence Award and obtained the national double certification.
ABOUT US
Research and design center in Taiwan, cross-trait synchronous manufacturing and production. Dedicates provide high-quality machine to customer. "Innovate, Quality, Service, Sincerity, Teamwork and Technology" are key advantages of CAMPRO.