Campro Wins Double Awards Of Machine Tool Competition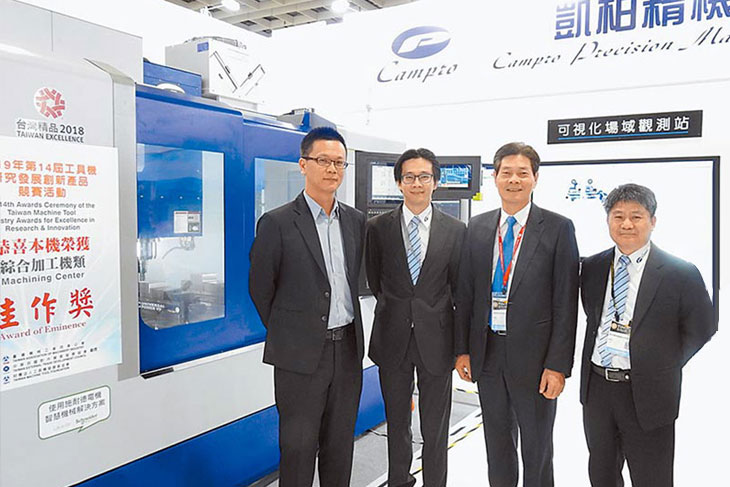 2019-03-07
Roger Lo/ Assistant Manager of Computer Center , Zachary Tsai/ Vice General Manager of Operations of Campro, Kenny Tsai/ Chairman of Campro and Johnson Chang/ Vice General Manager of Campro
2019/0/07 Commercial Times
Campro Precision Machinery participated in Machine Tool Research and Development Innovative Product Competition in 2019. The intelligence-infused NV-1280 CNC Vertical Machining Center and NT-208SY CNC Turning and Milling Center were highly praised by the jury. Those 2 types won Award of Eminence in Machining Center and CNC Lathe in 2019 Taiwan Machine Tools Industry Award for Excellence In Research and Innovation.
With forward-thinking design, Campro, led by Kenny Tsai, has successfully launched IIoT system which meets the technologies of Industry 4.0 since 2016. After effectively assisting the rapid upgrade of the manufacturing industry, Campro has also successively won the Yushan Award and the Industry 4.0 Business Model of Intelligent Innovation. In 2018, Campro also passed Certificate of Registration as a Technological Service Organization 401/402/405, and received Taiwan Excellence Awards in both 2018 and 2019 and other awards.
Campro Tooling Management System was launched to complete Industry 4.0. It has no need to be stationed for real-time inventory in any place and provides 24-hour storage solutions for all tools, holders and accessories. The system keeps tracking and analyzing usage precisely at all times and issues warning message for safety stock. Campro takes the practitioner of human-machine symbiosis as its strategy and spares no effort to develop smart manufacturing. It fully demonstrates the determination to move towards Industry 4.0 from Industry 3.0.
ABOUT US
Research and design center in Taiwan, cross-trait synchronous manufacturing and production. Dedicates provide high-quality machine to customer. "Innovate, Quality, Service, Sincerity, Teamwork and Technology" are key advantages of CAMPRO.