【TOPIC】Guests from Pennsylvania Department of Community & Economic Development visited Campro booth at AMTS 2019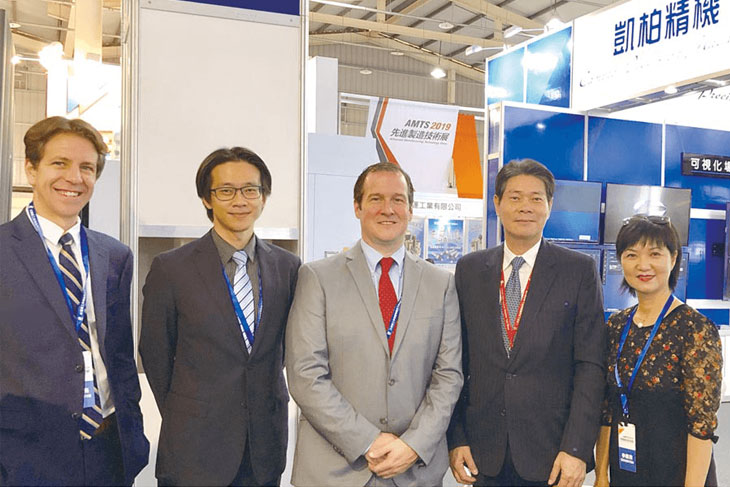 2019-10-08
Start from left in the photo: Jason Hunt/ Manager, International Business Attraction & Retention at Pennsylvania Department of Community & Economic Development, Zachary Tsai/ Vice General Manager of Operations of Campro Precision Machinery, Neil Weaver/ Executive Deputy Secretary, Pennsylvania Deputy of Community and Economic Development, Kenny Tsai/ Chairman of Campro Precision Machinery and Irene Tsai, the Managing Director of The Commonwealth of Pennsylvania Office of Trade and Investment in Taiwan
2019/10/08 Commercial Times
At AMTS 2019, Kenny Tsai, the chairman of Campro Precision Machinery, announced that Campro focused on exhibiting a series of factory management solutions, including "Campro Tool Management System", "Tool holder Management System", "Tool Wear Detection System", "IIoT Real-Time Data Visualization" and "Flexible Manufacturing System" to assist clients managing their factories effectively. After visiting the venue, the group also drove to visit Campro Head Office in Taichung City Precision Machinery Innovation Technology Park to learn about the factory operating status, production lines and quality control processes in factory.
Since Campro has established a showroom in Pennsylvania, U.S.A. this year, the further development of Campro in Pennsylvania was also discussed during the meeting. Neil Weaver, Executive Deputy Secretary, Pennsylvania Department of Community and Economic Development, concluded Campro has made a quite right decision with Pennsylvania's strategic location in the heart of the East Coast and with the advanced technology industry clusters and R&D innovation capabilities in Philadelphia and Pittsburgh.
Jason Hunt, International Business Attraction & Retention at Pennsylvania Department of Community & Economic Development, also mentioned that Pennsylvania is a major manufacturing state in the U.S., leading the United States, mentioned Pennsylvania is the state's largest industrial city home, whether it is in robotic research, development of automated driving system or factory automation. For Campro to develop a smart factory management system, it must be able to provide excellent techniques, experts and related resources.
Irene Tsai, the Managing Director of The Commonwealth of Pennsylvania Office of Trade and Investment in Taiwan, said that if Campro's showroom can be developed into an assembly and manufacturing plant in the future, the products ban be sold successfully via the Pennsylvania Trade and Investment Office to find business opportunities.
ABOUT US
Research and design center in Taiwan, cross-trait synchronous manufacturing and production. Dedicates provide high-quality machine to customer. "Innovate, Quality, Service, Sincerity, Teamwork and Technology" are key advantages of CAMPRO.