Campro Wins Two Awards From TIMTOS 2019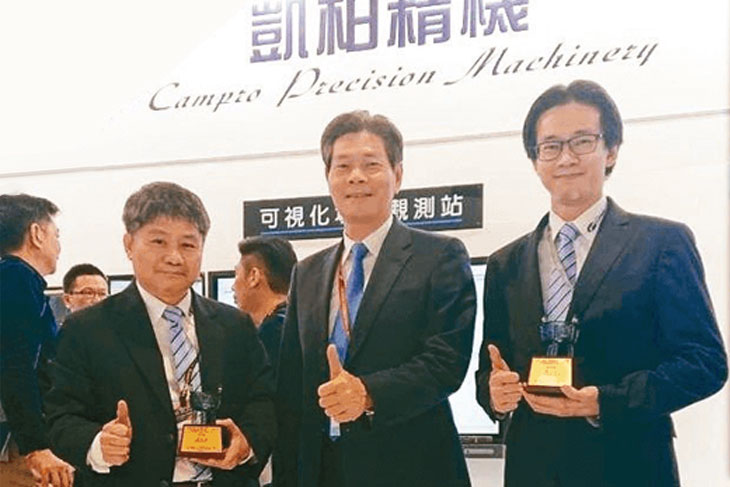 2019-03-08
Johnson Chang/ Vice General Manager of Campro, Kenny Tsai/ Chairman of Campro and Zachary Tsai/ Vice General Manager of Operations of Campro
2019/03/08 Economy Daily News (Taiwan)
Campro/ NV-1280, Vertical Machining Center with intelligence-base, wins Award of Eminence in Machining Center and Campro/ NT-208SY, Turning and Milling Center, wins Award of Eminence in CNC Lathe at 2019 Taiwan Machine Tools Industry Award for Excellence In Research and Innovation. The wisdom-infused NV-1280 CNC vertical processing machine and NT-208SY CNC turning and milling centers were highly praised by the jury at TIMTOS 2019.
In 2018, Campro started to root Industry-Academia Collaboration with Johnson Chang's rich contacts and professional knowledge in both academia and CNC industry. To complete Industry 4.0, Campro works diligently in development and technology via excellent talents in academia.
Kenny Tsai successfully launched the IIoT system in line with Industry 4.0 in 2016 and this helped CNC manufacturing industry rapidly upgrade. Also Campro successively won the National Brand Yushan Award and the Industry 4.0 Business Model of Intelligent Innovation.
Campro manufactures various types of machining centers (vertical, horizontal, double column, five-axis machining centers and etc.), CNC lathes, vertical lathes, turning and milling centers as its main products. In 2019, Campro has participated in the competition with two main products. NT-208SY, turning and milling center with box guideways, allows servo compensation on each axis to optimize the positioning accuracy. 3 important cutting parameters are combined with neural network calculations via intelligentized big data to predict tool wear and improve machining accuracy. NV-1280 is Campro 2nd generation CNC Vertical Machining Center, which provides more Y-axis travel than others on the market providing increased flexibility to meet different machining needs. Its one-piece column incorporates a shoulder to support the tool magazine to decrease vibration during magazince indexing. Pretensioned class C3 precision ballscrews on 3 axes help to eliminate backlash. 3 sets of bearings with dust-protection device are utilized both in the front and rear. Its intelligent elements are developed with flexible production using 3D vision-guided to replace manual searching for workpiece positioning, which effectively meets the needs of unmanned production lines. Then through the intelligent adaptive control of the flutter prediction, it can effectively avoid the flutter suppression and the spindle thermal compensation achieving accurate compensation and automatic parameter tuning.
ABOUT US
Research and design center in Taiwan, cross-trait synchronous manufacturing and production. Dedicates provide high-quality machine to customer. "Innovate, Quality, Service, Sincerity, Teamwork and Technology" are key advantages of CAMPRO.