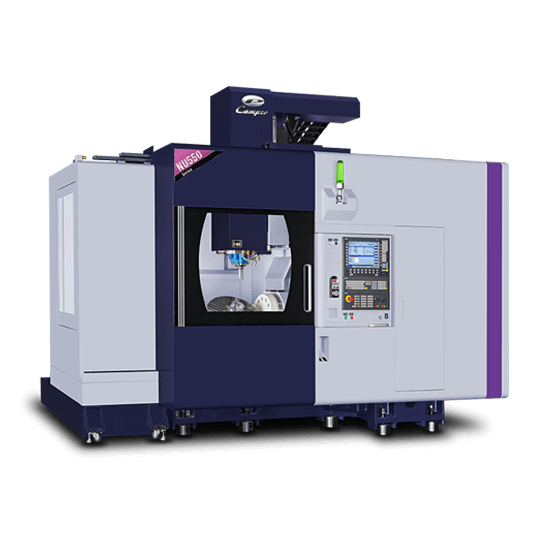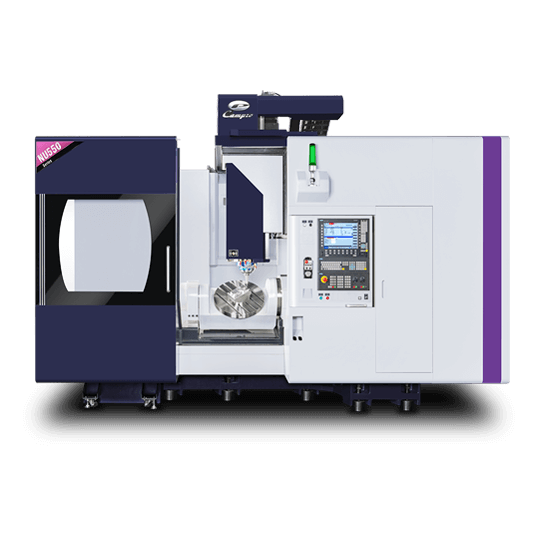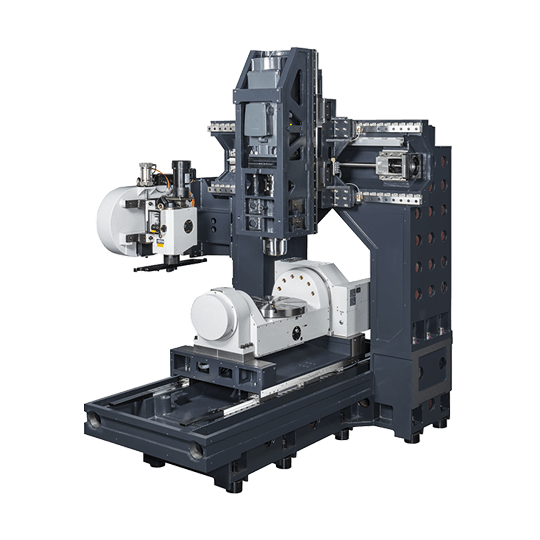 5 Axis Machining Center
NU 550
X:940 / Y:800 / Z:550 (mm)
NU Series 5 Axis Machining Centers are designed for highly efficient to meet the demands of multi-surface or complex shape machining. This advanced machine reduces processing time and enhances manufacturing quality.
With options for both 4+1 axis and 5-axis versions, it offers versatile capabilities for multi-surface machining. The 4+1 axis version enables 4-axis simultaneous motion with precise positioning on the remaining axis.
The 5-axis version takes it a step further with simultaneous control, allowing for tilted plane machining, cutter thin blade machining, and intricate shapes cutting.
By eliminating alignment errors, it improves component precision and extends cutting tool life.
Experience the power of the NU Series 5 Axis Machining Center for enhanced productivity and superior results in your manufacturing operations.
The Campro NU 550 Monoblock Column 5 Axis Machining Center, part of the NU Series, features a one-piece Monobloc column with tilting rotary table that gives workshops the versatility to machine complex components without the expense or large footprint of a swivel head machine.
Its unique bridge design allows for machining large workpieces in a smaller footprint while providing increased rigidity compared to a standard C-frame design.
With a state-of-the-art trunnion table for enhanced machining accuracies, the machine offers impressive specifications including a table dimension of Ø550 mm, A axis swiveling range of +30° ~ -120°, and a maximum workpiece dimension of Ø550x350 mm.
Additionally, it has a maximum loading weight of 300 kgf in the vertical direction and 250 kgf in the horizontal direction.
Feature
Enhance machining versatility with a simultaneous controller for tilted plane machining, longer tool life, and precise component cutting.
12,000 rpm I.D.D spindle with large 40 HP motor.
Powerful 5-axis simultaneous function to optimize the accuracy and efficiency.
The one-piece Monoblock column and base structure provides superior machine stability performance.
The tilting rotary table is supported by a double arm system to increase stability and increased machining capability.
BBT-40, standard 32T (optional 40T / 60T) chain-type ATC, meets the demands of 5 Axis machining center by providing versatility for various or continuous machining needs.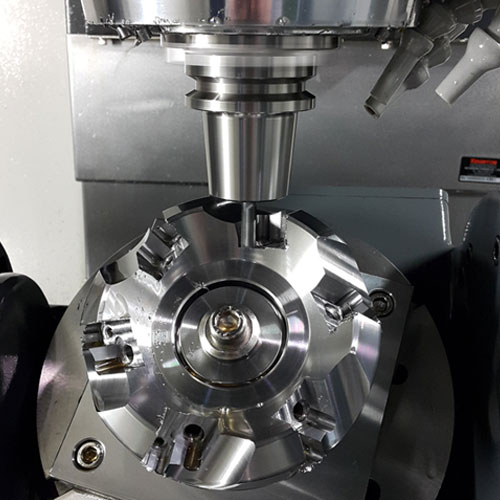 Machine Specification
Item
Unit
NU 550
Travel
X axis travel
mm

(in)

940

(37")

Y axis travel
mm

(in)

800

(31.4")

Z axis travel
mm

(in)

550

(21.6")

A axis swiveling range
deg.
+30°~-120°
C axis rotary range
deg.
360°
Spindle nose to table surface
mm

(in)

80~630

(3.1" ~ 24.8")

Table
Table dimension
mm

(in)

Ø550

(21.6")

Max. loading weight (V / H)
kg

(lb)

300 / 250

(661 / 551)

Spindle
Spindle motor
kW
20 / 30

(40HP)

Spindle speed
rpm
12,000
Tool shank
type
BBT-40
Automatic Tool Changer
No. of tools

(OPT)

number
32

(40 / 60)

Max. tool weight
kg

(lb)

7

(15)

Max. tool length
mm

(in)

250

(9.8")

Max. tool diameter
mm

(in)

Ø75

(Ø2.9

")

Max. tool diameter (Adjacent empty)
mm

(in)

Ø127

(Ø5")

Feedrate
Rapid feedrate (X / Y / Z)
m

(in)

/min.
36 / 36 / 30

(1,417.3 / 1,417.3 / 1,181.1)

Rapid feedrate (A / C)
rpm
11.1 / 16.6
Other
Floor plan (W × D)
mm

(in)

4,100 × 3,650

(161" x 143")

Machine weight
kg

(lb)

11,000

(24,250)

Max. machine hight
mm

(in)

3,300

(129")

Power capacity
KVA
50

* Machine specifications and design are subject to change without prior notice due to on-going innovation.
Need Inquire ?
If you need more information or quotation about this product, Our sales representative will reply as soon as possible